Many successful small business owners are continuously looking to expand their customer base and grow their businesses.
Generating leads is critical to the growth of your company. It helps you build a pipeline of potential customers and improve your sales.
A lead, or a potential customer is a person who provides their contact information in exchange for something valuable from you (e.g., a free eBook). Lead generation is about identifying people who have expressed an interest in what you're selling, then turning those leads into paying customers by engaging them with personalised activities tailored specifically toward their interests and needs.
It may be difficult to find the time and resources to devote to your marketing efforts, especially if you're already working on other aspects of your business that are more pressing or important. However, if you want to achieve long-term success with your small business, you'll need to devote time and resources toward growing your customer base.
This post will share eight effective lead generation marketing strategies you can use. They will help attract leads into doing business with you. Let's get to it.
1. Events and Seminars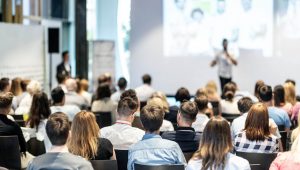 If you want to ensure that your business gets the attention it deserves, you need to connect with people. Events and seminars are a great way of doing this. In fact, events and seminars can be conducted both online and physically. With these events, you can connect to valuable leads. Besides, you will be able to get their contact information in the event registration. It will allow you to connect with them in the future to promote your business.
2. Creating Gated Content
Gated content is a form of content marketing that uses a registration form to lock access to certain materials. This is a way to segment your audience and target those who are most interested in your brand.
Targeting the right audience for your brand can be challenging, but gated content can help you get that process started by segmenting users based on their interests. If you don't have any experience with creating gated content, you may want to consider hiring an agency that specializes in lead generation services.
Example of Gated Content :
eBooks
Online tools
Courses
3. Email Marketing
A good email marketing strategy can be beneficial to any business. It can help you establish an online presence, build brand awareness and attract leads who are interested in your products and services. You can increase your sales by utilising lead segmentation. This will allow you to grow your business exponentially by sending out personalised emails. Surveys show that when you personalise your emails, it helps businesses get way higher conversion rates.
4. Launch Effective Paid Media Campaigns
Paid media is a form of advertising that uses money to reach an audience. In a world where we are all drowning in a sea of content, it can be hard to stand out from the crowd. But when you combine your organic lead generation practices with paid media, your business gets an immediate boost in visibility.
Paid media is a great way to get more leads into your funnel faster by paying to get your content in front of potential customers. Organic lead generation practices, like SEO, take time to work their magic. Paid media gives you the ability to bypass that process by putting your content directly in front of the people you want to reach.
5. Providing Free Product Trial
An effective way to generate leads is to offer a free trial of your product. Free samples have been used for years by businesses all over the world. It gives consumers an opportunity to experience what they're buying, giving them confidence before committing to purchase. It is especially effective when used in conjunction with an eBook or other digital content that can be delivered instantly via email (such as a PDF brochure).
6. Creating A Referral Rewards System
Referrals are a great way to grow your business by bringing in new leads. They are also great for customer retention—if a customer refers someone to you, they're more likely to stick around. Additionally, it gives your existing customers the opportunity to use their networks to spread the word about your business and its products.
A referral rewards system offers a discount or other incentive for customers who bring in leads. This is especially effective if the reward is perceived as valuable by the customer; for example, offering discounts on future purchases or giving away free products.
When it works well, this type of system helps you create a stronger brand presence as well as increase sales.
7. Success Stories and Positive Testimonials
Success stories are great for startups and established businesses alike. You can share success stories where your product or service helped solve a problem for another customer. Sharing testimonials about how you've helped your customers is one way to promote your business. Not only does it help promote your brand, it can also attract new customers who are interested in what you have to offer.
Platform to Spread Your Stories:
Social media platforms are excellent ways to get your message out there. With Facebook, Twitter, Instagram and more all providing users with a unique space for sharing their thoughts and experiences, it's never been easier to connect with fans. However, with so many platforms out there, you need to be careful about which one is best for you. You want something that will allow you to reach the right audience.
Broadcasting media is another great way of getting the word out about your brand or product. There are plenty of radio stations and TV channels that will accept content from businesses. If you have something particularly newsworthy going on, then consider sending it in as an advert – but make sure it's relevant!
Print media is another great way to spread your story. It includes newspapers and magazines, but also includes some more niche publications such as newsletters or mail order catalogues.
8. Retargeting Past Users
Existing customers are much more likely to buy additional products or services than new customers. This is because past customers already know the value you can offer, so they don't require a lot of additional convincing. Focus on re-engagement. It's easier to win back old customers than it is to acquire new ones. Take advantage of your relationship with past customers and look for ways to boost revenues from existing accounts.
Final Thoughts
Lead generation is a long-term and continuous process. It's not something you do once and then sit back and wait for the results to roll in. You need to keep up with it, because your competitors are working hard every day to get in front of customers, too.
Generating high-quality leads is essential for the long-term success of any business. It allows you to build an audience that you can market to for years, saving your company money on marketing and sales costs.
We hope this article has helped you learn about some of the most effective lead generation strategies for your business.
If you're looking to generate more leads, we'd love to help. We are a team of lead generation experts that could help you get the most out of your marketing campaigns. We understand the various ways to generate leads and we'll tailor our marketing services to get the most effective results for you! Schedule your free consultation here.